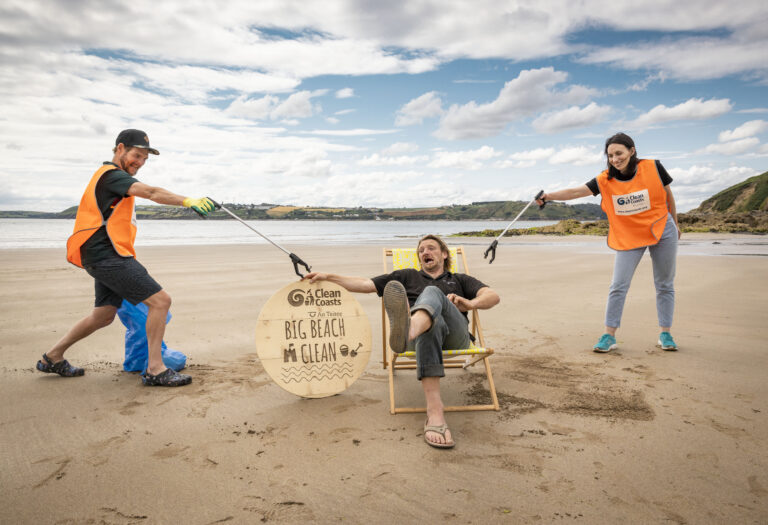 The Big Beach Clean is back: register now to receive a clean-up kit!
When it comes to litter, remember: at land = at sea! That's why we are asking National Spring Clean volunteers to join Clean Coasts again for the Big Beach Clean 2021. Don't be put off by the title of the initiative, it's open to everyone no matter where you live in the country to take part – every bit of litter that isn't picked off the ground will eventually make its way through our waterways to the sea.
The Big Beach Clean is Clean Coasts' annual call to action to remove litter from Irish beach at the end of the bathing season. During the Big Beach Clean, Clean Coasts volunteers are asked to carry out marine litter surveys to quantify the amount and types of litter on Irish beaches. These surveys are aimed at heightening awareness about the issue of marine litter and serve as an indicator of the magnitude of the problem.
This year, we were delighted to join Clean Coasts for this great initiative. Did you know that the number one cause of marine litter is litter dropped in towns and cities followed by overflowing litter bins? As evidence has shown that over 70% of plastic pollution effecting our ocean comes from land-based actions, cleaning up cities and towns has a tangible positive effect on our seas and oceans too.
For this reason, we asked volunteers from all over Ireland to get involved, no matter how far from the coast they are based in. By joining the Big Beach Clean initiative, our volunteers helped prevent litter entering our waterways and seas by holding a clean up no matter where they are in the country and tackling the problem at source.
Last year, over 400 beach cleans took place last year as part of our Big Beach Clean, with volunteers removing at least 42 tonnes of litter across the country!