National Spring Clean ambassador Sarah McGovern calls on communities around Ireland to make a clean sweep this April
Registrations for the National Spring Clean are now open – Register to make a difference!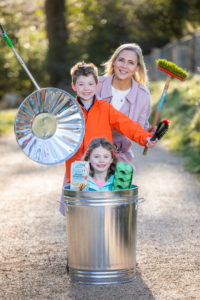 28 February 2020 | National Spring Clean ambassador Sarah McGovern launched the National Spring Clean 2020, calling all communities around Ireland to register for Ireland's largest and longest anti-litter campaign and make a tangible impact on our environment.
National Spring Clean is operated by the Environmental Education Unit of An Taisce in partnership with Local Authorities and supported by the Department of Communications, Climate Action and Environment.
Each month of April, for the past 22 years, the National Spring Clean has been working with communities around the country to tackle the issue of litter in local areas and see the benefits of a litter-free environment. By participating in organised clean-ups, groups and individuals come together act locally to make a meaningful contribution not only in their own community, but also globally.
Spring Clean 2019 reported record breaking results, with 5,448 groups registered to carry out clean-ups throughout the country. Over 500,000 volunteers joined Spring Clean 2019 and collected an estimated 3,000 tonnes of litter, of which 35% has been recycled. 
This year 2020, the initiative wants to raise awareness about the close link between litter and the Sustainable Development Goals. Furthermore, this year's campaign will focus on the importance of reuse and responsible consumption. The National Spring Clean is encouraging volunteers to reuse hi-viz vests and gloves, as well as is providing registered groups with bags made from recycled materials.
Building on the progress and momentum from prior years, we hope to make 2020 the most successful anti–litter campaign yet.
National Spring Clean, Chairperson, Michael John O'Mahony, commented:
"The National Spring Clean represents the best of our communities capacity to meet challenges and achieve significant outcomes. Participants come together to give back to their local community and the environment. For the 2020 campaign we are focusing on the link between this call to action and the United Nation's Sustainable Development Goals.  By taking part in the National Spring Clean, volunteers have the opportunity to be part of an active community of people working towards making where they live more sustainable. By removing litter from our streets, but also by reusing their clean-up kits, they not only enhance their area but also help foster more sustainable consumption patterns. Our consumption patterns and how we manage our waste has a substantial impact on the levels of emissions of several greenhouse gases which contribute to climate change. And by removing litter from our environment they also get rid of potential threats to our wildlife. Building active, resilient and sustainable communities is exactly the outcomes the UN's Sustainable Development Goals aims to achieve.
Sarah McGovern, National Spring Clean Ambassador, commented:
'Today, we are calling on the communities of Ireland to spring into action and join the fight against litter. Year after year, the National Spring Clean has been getting increasing support from volunteers and groups, making the campaign achieve great results, not only by helping the environment, but also by fostering a community spirit amongst all those that take part. In 2020, we are focusing on the importance of reusing, not only when it comes to personal choices, by opting for sustainable alternatives like a reusable bottle or coffee cup, but also by giving volunteers the option to reuse hi-viz vests or gloves from their previous years clean-up kits. '
All clean up groups registering with the National Spring Clean campaign receive a FREE clean-up kit comprising information, posters, colour coded refuse sacks for segregation of waste materials, protective gloves and high-vis vests. Groups registered with National Spring Clean are covered under a public liability insurance policy while engaged in clean-up activities for the duration of the campaign.
An Taisce encourages people taking part in '#SpringClean20' activities to tell everyone about it. Post photos using the #SpringClean19 hashtag to your favourite social media platforms. You can tag the campaign on Twitter (@NationalSpringC) or Facebook (@NationalSpringClean), and on Instagram using the Campaign's Instagram handle @nationalspringclean.
Ends
Media Enquires
Email: ecullen@eeu.antaisce.org
Tel: +353 857 07457
About National Spring Clean
The National Spring Clean campaign Ireland is largest and longest running anti-litter campaign. It is operated by the Environmental Education Unit of An Taisce and sponsored by the Wrigley Company. It is supported by Local Authorities who help co-ordinate clean-up activities for communities within their counties and the Department of Communications, Climate Action and Environment. Local authorities also provide for the disposal of all rubbish and waste materials collected. 
Over the past 22 years, through the National Spring Clean:
Over 80,000 clean-ups have been organised
38,000 tonnes of litter have been removed
8kg of litter per participant has been collected
12 million hours of work have been put in by volunteers
All those wishing to take part in the campaign should register on www.nationalspringclean.org 
To register for the National Spring Clean call 01 4002219 or visit the website at www.nationalspringclean.org
What we can do outside the month of April
While the National Spring Clean runs through the month of April, please remember that personal actions throughout the year are very important too. Here are some choices we can make daily to make a positive change:
When you are out for a walk, visiting a park or a beach, do a quick #2minutestreetclean or a #2minutebeachclean
Avoid single-use plastic when possible, by choosing more sustainable alternatives, such as reusable bottles and coffee cups, cotton bags, metal straws, etc…
Don't litter and if a bin is overflowing, keep your waste until you find a waste to dispose of it properly
If you can't reduce or reuse, then recycle! Info at www.mywaste.ie
Recent statistics show that, in Ireland, discarded cigarette butts make up for 60% of litter on the streets. Always bin your butt!